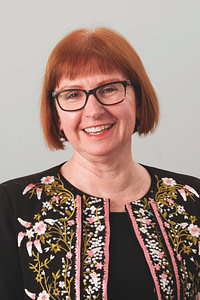 Pam Batkin
Chief Executive Officer
Pam Batkin has been CEO of Woodville Alliance since May 2010. Since then WA has developed new services and has expanded into new communities in response to community need. WA is also currently undertaking a number of innovative projects, including a collective impact project focusing on a number of social enterprises such as a digital employment business for school leavers with a disability.
With extensive experience in leadership and senior management in the community sector and in local government, Pam has been Chair of the Board of the peak Western Sydney policy and advocacy organisation, Western Sydney Community Forum for four years. Pam was also the President of the Board of the NSW community services, peak body, the Council of Social Services of NSW (NCOSS) from 2006 to 2010. These state and regional leadership roles reflect Pam's strong professional commitment to social justice and to work at all levels for a fairer society.
Pam has a Bachelor of Social Studies, a professional Social Work degree and a BA. She is also a graduate of the Australian Institute of Company Directors and a certified organizational coach.
---
Carol Swift
General Manager – Corporate Services
Carol has over 20 years experience as a senior finance executive and organisational, strategic development, across a diverse range of industries, in both commercial and not-for-profit sectors, including healthcare, industrial services, resources, wholesale services & education. Across these industries she has held responsibility for all corporate services, Finance, Business Analysis, Payroll, Information Technology, Quality, Risk and Compliance Management, as well as designing and implementing plans for strategic direction.
Carol's experience in building high quality management services and risk management systems has created her passion for developing a culture of continual improvement with good governance practices in a values-based environment.
Carol holds a B.Comm (UNSW), is a qualified CPA and a graduate of the Australian Institute of Company Directors (GAICD). Carol is also a Fellow of the Governance Institute of Australia (FGIA), and a Fellow of the international Chartered Governance Institute (FCIS).
---
Melisa Bradley
General Manager – Disability Services
Melisa has worked in the Disability sector for 20 years, in roles spanning operations, clinical, and leadership. She has managed cross-sectional services and has a strong commitment to operational excellence and business development in areas where there are unmet needs within the community.
Melisa holds a Bachelor of Inclusive Education and Disability Studies. She is passionate about social justice and making a difference in community inclusion, partnering with internal and external stakeholders.
Melisa holds a Bachelor of Inclusive Education and Disability Studies, Diploma of Disability, Certificate IV in Training and Education.
---
Ruth Callaghan
General Manager – Community Initiatives
Ruth has over 10 years' experience as a senior executive working in strategic social policy and operational service delivery in government agencies and the non-government sector – most recently in early childhood education and development, disability and community services. She has a strong commitment to evidence based and cost effective programs that improve life outcomes and economic opportunities for diverse individuals and communities. Her experience in high level government policy, regulation and operations as well as deep experience in the not for profit sector provide a strong base for her work with Woodville and community based program development and implementation. Ruth holds a BA (hons) and MA in Policy Studies.
---
Veronique Besnard
General Manager – Human Resources
Veronique has worked as a Human Resources Manager for a range of industries and has specifically been involved in non for profits for an extensive period. She has managed cross functional HR teams as well as payroll functions. Her strengths are HR operational requirements as well as strategic and innovative HR implementation. Additionally, her experience extends from managing recruitment and talent acquisition, WHS, IR, and change management. She has a clear focus on HR partnering with the organisation to ensure people strategy meet operational goals.
Veronique Besnard has a BA in Social Science with a Major in Industrial Relations (UWS)
---
Lili Sta-Maria
Manager – Marketing and Partnerships
Lili has over 15 years' experience as a senior manager working in brand management, strategic marketing and customer strategy in not for profit, banking & finance, insurance and government industries. Most recently in a large not for profit organisation providing residential aged care, independent living, home community care, early childhood education and development, disability and community services for children, young people and families. Her experience provides a strong base for her work with Woodville Alliance to develop and implement an organisation wide strategic marketing, communications and partnerships strategy.
Lili is also an experienced international marketer and holds a Master's in International Marketing with the University of Technology, Sydney and a degree in Bachelor Commerce (Marketing) with the University of New England. She is passionate about making a positive difference in the community and honouring human difference and diversity.
---
Michael Doran
Manager – Business Development
Michael has over 16 years' experience working in Business Development roles in the shipping and logistics industry throughout Australia, Asia and Africa. He is experienced in sales and marketing and holds a Master of Business Degree in International Marketing at UTS University, Management Advancement Program at Witwatersrand University Johannesburg, Corporate Account Management Program at IMD Lausanne and Certificate IV in Community Services at TAFE.
Michael has gained recent experience working in the area of disability, homelessness, drugs & alcohol, mental health, asylum seekers and the criminal justice system. He is passionate about making a difference in the community and having a more inclusive, tolerant and society.