Annual Report & Financial Reports
Each year Woodville Alliance produces an Annual Report. This Report contains a description of the work of each of our program areas and a summary of our audited accounts from the previous year.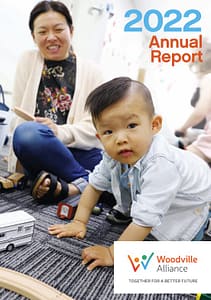 Click here for the full PDF version Woodville Alliance Annual Report 2022
Annual Report Archive
Other Publications

Woodville newsletter
Read Woodville Alliance's #togetherforabetterfuture Newsletter to learn about who we are and our broad range of services to suit your needs, our dedicated and caring staff, and fun client activities and events. At Woodville, we aim to create new possibilities for our clients and families.
We hope you enjoy our fresh approach with fewer words and more pictures because we believe 'A picture tells a thousand words.'
For the latest news, follow us on Facebook and Instagram. See the links at the bottom of the page.
Editions
Woodville Alliance Qtly Newsletter Oct 2022
Woodville Alliance Qtly Newsletter December 2022
Woodville Alliance Qtly Newsletter March 2023

'Reflect' Reconciliation Action Plan
Our Reconciliation Action Plan (RAP) continues our long-term actions and on-going work towards reconciliation by setting out a formal plan to document our commitment to reconciliation and working in partnership with Aboriginal and Torres Strait Islander people.
Woodville Alliance has developed what is known as a 'Reflect' RAP, which commits our organisation to completing key actions over the next 12 months to ensure we are well positioned to implement effective and mutually beneficial initiatives as part of future Reconciliation Action Plans.

NAIDOC Day of Celebration 2019
NAIDOC Day of Celebration 2019 was planned by local elders Uncle Des, Uncle Darrell, Aunty Freda, Uncle Dennis and the members of the Fairfield Engaging Families of Aboriginal Heritage network, which includes Communities for Children Fairfield, Fairfield City Council, Fairfield Public School, Karitane, The Parks Community Network and Woodville Alliance.
The purpose of the community celebration for NAIDOC was to collectively engage the broader communities of Fairfield and give us an opportunity to celebrate, understand and appreciate the Aboriginal and Torres Strait Islander people and their culture.
For media enquiries relating to this project, please contact Des Smith, Community Project Officer, Aboriginal and Torres Strait Islander at Fairfield City Council telephone: 9725 0000.
Watch the video and read the Media Release of the event.

2163 Project
Woodville Alliance in collaboration with Fairfield City Council, Smith Family's Communities for Children Fairfield program and other local services, launched a vital community report and film about the community living in the 2163 postcode as part of the 2163 In Focus Project.