How does the Transition From School Program work?
Your journey to become part of the Woodville Alliance community starts with a tour of our facilities and the opportunity to meet our staff and clients. You'll be able to ask questions and really get a feel for what it would be like to spend a day with us.
If you decide you would like to attend one of our services, we will ask you to complete our Essential Lifestyle Plan, which helps us to understand what support you will need when you are with us and your likes and dislikes.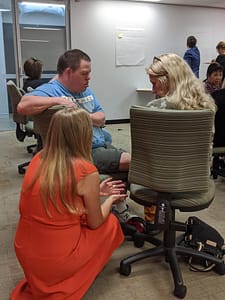 The next step will be for a new client to spend a couple of hours with us as a trial to see whether Woodville Alliance is really the right place for them. With your permission, we can also work closely with your school to ensure that we have any relevant information from them about you, and they can help us to better understand your needs.
We will then confirm that we are able to offer a place in a service and talk to you about things like ratios of support (this is how closely supported a client is in our services). The next stage is to provide you with a quote for the services you require.
Once all the paperwork is complete, we encourage clients transitioning from school to do so gradually during Oct/Nov/Dec. We recommend a day or so a week at first, usually with a higher than usual ratio of support. This allows for everyone to get to know one another, and to easily address any issues.
During this transition period, a key worker will contact parents regularly through the week to provide feedback to you about how things are going and to check in with you about any concerns. We will also invite you to an Orientation Evening during November where you will get the chance to meet other new Woodville Alliance families, to hear more about how we run our services and to ask senior staff questions. During January you will be invited to a Meet and Greet social event where you will meet the wider community in an informal atmosphere over a BBQ.
What type of supports do we provide?
At Woodville Alliance we provide community and social participation supports suitable for people with high support needs right to those who are relatively independent and interested in further education and employment.
• Day services
• Capacity building
• Life skills
• In home and individualised support
• Weekend and evening programs
• Short holidays
• Transport
• TAFE study
• Computer skills
• Work experience
• Employment opportunities
• Support coordination
And more…
Click here for Woodville Transitioning From School Brochure
Click here for Woodville Disability Support Services Brochure
Talk to us today!
We welcome you to contact us or visit us at any time to learn more about our great services.
Receive your Transition From School 'Starter Pack' by completing the form below.
Call
Wendy: 0448 976 271
Toby: 0490 048 284
Lili: 0434 896 312
Email: ndis@woodville.org.au
Alternatively, complete an enquiry form and we will get back to you soon.
Subscribe to be notified of new developments in creating a better future.