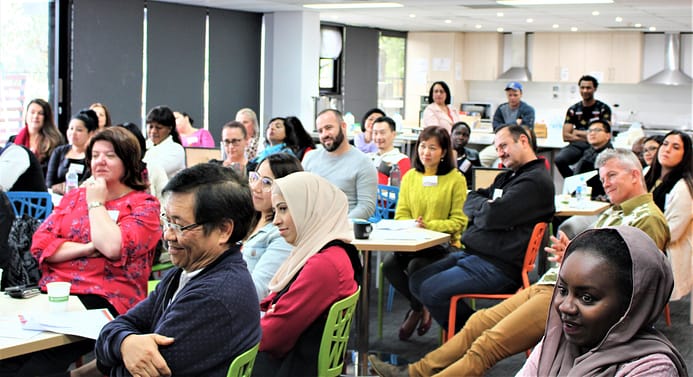 A career with Woodville Alliance will link you in with a diverse and passionate community who love all things Western Sydney.
Regardless of whether you're working in the community or in our crucial support teams, as a Woodville Alliance employee you will grow both personally and professionally.
A career with Woodville Alliance offer many rich experiences, connection with the community, opportunities for advancement and the chance to make a difference to the lives of many who left behind in life.
Award Winner!
Woodville Alliance is super excited to announce to be the winner of the Change Champion Awards by Voice Project within the small-medium category! This is in recognition of significant improvements in its work practices and employee engagement.
For the past 10 years, Voice Project has been engaged by Woodville Alliance to run its bi-annual engagement and annual pulse surveys.
Despite experiencing some significant challenges presented by the pandemic, 2022 results have shown that staff wellbeing and engagement levels are at a record high. Feedback from staff showed a significant improvement of 8.3% in the survey scores, placing Woodville amongst the top change achievers within small and medium-sized organisations.
The Leadership team is pleased to learn that all its efforts and measures to keep staff, their families, and vulnerable clients safe during the Pandemic have been noticed, and that the staff feels valued and proud to work for Woodville Alliance.
According to Namita Biswal, GM- People, Culture & Safety, "Woodville Alliance is proud and humbled to win this award, as it highlights the exceptional improvements the organisation has collectively made in its work practices and employee engagement. It also highlights the need to continue to listen, learn and adapt our work practices to what the staff and community are telling us. This award is a testament to the dedication, resilience and commitment of our staff towards achieving highest level of care and support for our clients, in very challenging circumstances!"
Below is what some of the staff had to say about their experiences of working at Woodville Alliance (extracted from the survey):
"Passionate Advocacy for the community by all staff from the top down!"
"Safe workplace/practices (WHS); Caring leadership primarily focused on clients and staff and not on money."
"Management is supportive; always looking at improving service and community thoughts through consultation; Training; I love that Woodville supports mental health days for workers."
"To employ people from different backgrounds; During the Covid keep us informed; Giving awards, recognising the people job at the end of year."
"Commitment to social justice and supporting the people in our local community. Inclusive and friendly environment for both staff and clients. Amazing Disability program that caters to a variety of different needs."